What are we trying to achieve?
For the past decade, the Gold Bar Building Committee has been diligently working with public, private, government and non-government agencies to raise the funds required to rebuild our Community Centre. We are pleased to share that we have successfully raised $2 million dollars to date! We are only $300,000 short of our fundraising goal.
There have been a large number of Gold Bar residents who have helped our Community League with redeveloping our hall. I would like to thank the current and past Building Committee members, the Executive of the Gold Bar Community League, as well as all of our volunteers for bingos, casinos, fundraising events and contributors who have helped us over the years. I would also like to give special thanks to our new partner North SEERA Hockey Association. They have made a $110,000 donation towards the hall and we are confident that they will help to keep our hall busy and vibrant for years to come.
It has been a long road and a lot of work. The hardest part of the project has been approvals and raising the necessary funding.We will complete what we call Tender 1 in the next 2-3 months.This work is largely being done by EMC as lead contractor and Sherri Shorten Architects. At the end of Tender 1, we will have a new rink shack, windows for the hall and a finished hall exterior and a portion of the hall will be open to the Community League.
Funds so far have been used to pay for architectural design, permits, abatement and reconstruction of the foundation and building envelope to meet building codes. The last $300,000 is required to complete the interior of this building. We HOPE that all Gold Bar Residents will consider making a financial, or in-kind contribution to help us close this gap in funding by June 30, 2014. Whether you donate now or can offer an
in-kind donation in the near future, please do so, or let us know by June 30, to ensure that the Community Centre is open and available to Gold Bar families by Summer 2014 and to avoid rapidly escalating construction costs.
It has been a pleasure to work on behalf of the Gold Bar Community, and I will continue to do my best to help finish this project and strengthen this community.
Sincerely,
Laurie Scott
Gold Bar Building Committee Chair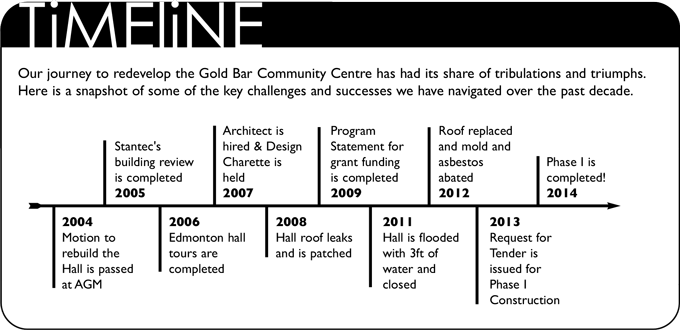 Full Hall Timeline coming soon!